A Celebration of Ireland!
Ireland (in 3D)
Journey to a magical land of stunning natural wonders, ancient clifftop marvels, and a rich, cultural heritage in the new film IRELAND for IMAX® and 3D. Follow Irish writer Manchán Magan, violinist Patricia Treacy and four Irish teens on a cross-country adventure as they explore the island of Ireland's fascinating history and wild, natural beauty, and reconnect with their Irish heritage. Experience the cultural wonders of Dublin and Belfast and discover such spectacular natural landmarks as the giant Cliffs of Moher, the volcanic wonder of Giant's Causeway and the rugged Skellig Islands, where scientists are studying the Atlantic puffin population. At each stop along the way, be immersed in the vibrant traditions, fascinating stories and sacred customs of this ancient land, seen as never before on the world's largest screens. Narrated by internationally acclaimed actor Liam Neeson, IRELAND is a MacGillivray Freeman film presented by Tourism Ireland.
Preceded by  Nothing to Declare
directed by Garret Daly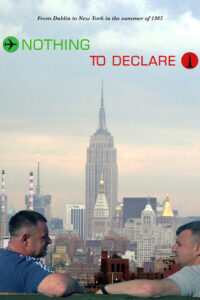 Keith Byrne (10) and Noel Murray (13) from Darndale had run away before, but evading the authorities in three countries was a first – even for them!