A celebration of Ireland's greatest author marking the 100th anniversary of one of his most cherished works. The feature documentary 100 YEARS OF ULYSSES is preceded by two short films which explore the ongoing legacy of Joyce's work.
100 YEARS OF ULYSSES
Directed by Rúan Magan
Produced to mark the 100th anniversary of the book's publication, "100 Years of Ulysses", a one hour documentary devised and co-written by historian, Frank Callanan and directed by Ruán Magan, sets out to unlock one of most impregnatable and explosive books of modern times. Featuring interviews with writers and scholars including Eimear McBride, Paul Muldoon, John McCourt and Margaret O Callaghan, illuminative archive film and photographs, newly commissioned art works by Jess Tobin, Brian Lalor and Holly Pereira and a beautiful original score by Natasa Paulberg "100 Years of Ulysses" brings viewers on an enlightening journey into the heart of one of the most inspiring and influential novels and reveals how it remains as relevant today as it ever was.
Preceded by The Michael Groden Papers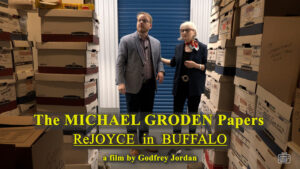 Directed by Godfrey Jordan
Godfrey Jordan and special guests will be in attendance
"The Michael Groden Papers" celebrates the renowned Joyce scholar who bequeathed his works to the University at Buffalo Poetry Collection, home to the world's most comprehensive collection of Joycean materials.
and  by Finnegans Wake Chapter 1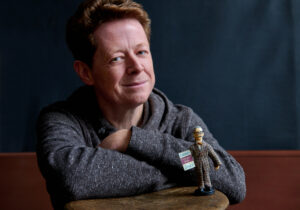 directed by Adam Seelig
Adam Seelig will be in attendance
"Finnegans Wake Chapter 1″ captures the dynamic and comedic cadences of James Joyce's final novel as read by Irish-Canadian actor Richard Harte. Shot with a live audience in Toronto, this marks both the first 'audio-video book' of this extraordinary novel and the first movie in One Little Goat's plan to film all 17 chapters of Finnegans Wake.