Andy Tohill & Ryan Tohill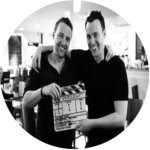 The Tohill Brothers are a directing team from Northern Ireland. Ryan, a director with five short films to his name shares some of the co-directing credits with his editor brother Andrew. As a team they have grown up writing, directing and editing together and while developing future projects they are continuously gaining experience in the
thriving film industry of Northern Ireland. As well as directing Ryan continues to work in the art department of TV productions such as HBO's Game of Thrones, ITV's The Frankenstein Chronicles, and BBC dramas such as Line of Duty & The Fall , as well as numerous feature films such as the Oscar nominated Philomena. He has clocked up hundreds of hours of onset experience at the highest level. In mid 2006 his brother Andrew moved from an Assistant Directing role and began developing a prominent career in post production. As well as Andrew editing their own short films, he's cut numerous television documentaries and dramas for local and national television. His last documentary feature film ROAD was released in cinemas nationwide June 11th 2014, and is set to pursue another in early 2018. The Tohill's brothers most recent short film Insulin was produced by Brian Falconer as part of the survivalist shorts, premiering at BAFTA in 2014. Their previous film, Eye Line received critical acclaim on the festival circuit winning 'Best New-coming Directors' at Cornwall film festival and 'Finalist' in Soho Rushes Shorts in 2012. Andrew and Ryan are passionate people who enjoy all aspects of filmmaking. They are confident in what they want to achieve, and concise when explaining their vision. Having worked in many departments, both on set and post production, they have acquired an crucial understanding of various roles within the industry and are mindful of the fundamental challenges that face every department.
The Dig screens Sun Mar 3 | 8:00pm | Closing Film